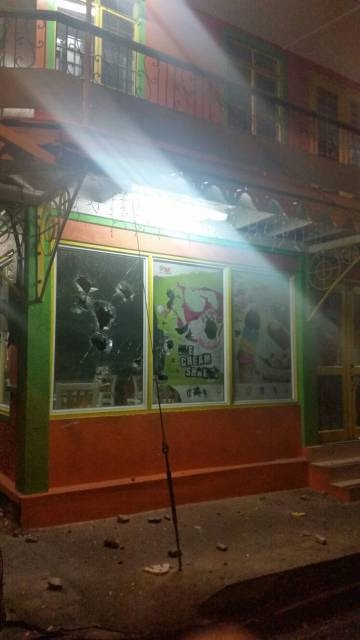 BASSETERRE, St. Kitts – A public meeting calling for the resignation of Prime Minister of Dominica the Hon. Roosevelt Skerrit, turned into a clash between supporters of the opposition and riot police in the island's capital, Roseau.
The incident took place yesterday (Feb. 7) and according to various media reports coming out of the island, fires were lit in the streets as protesters threw bottles and stones at the riot squad and other law enforcement officials.
A public meeting that was organized by several opposition parties, including the United Workers Party, called for Prime Minister Skerrit's resignation over his handling of the country's Citizenship by Investment Programme, the recent controversy surrounding the issuance of a particular diplomatic passport and other issues.
According to reports published by Dominicavibes.dm, the Prime Minister and a number of business owners that had their establishments looted last evening took a walk through the area today and were assessing the damage.
In a press statement issued in wake of the unrest, opposition party The United Workers Party [UWP] condemned, "the acts of violence and vandalism that erupted in the streets of Roseau during the evening of February 7th, 2017 causing widespread loss and damage to business enterprises and triggering fears for safety and security in a season of heightened tensions in our practice of civility. We empathize with the owners and employees of the affected business concerns with the hope and prayer of a return to normalcy as soon as possible."