NIA CHARLESTOWN NEVIS September 27, 2021(SKNVIBES)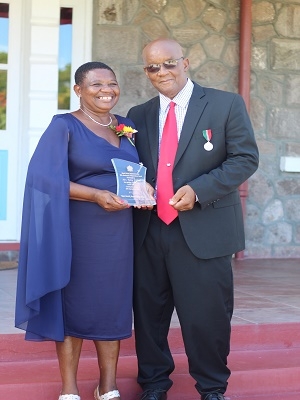 Mrs. Palsy Wilkin nee Brandy was one of 11 Nevisians honoured on the occasion of the 38th Anniversary of Independence of St. Christopher and Nevis for their contributions to the development of the federation.Mrs. Wilkin who was an educator for 44 years was presented with an award by Her Honour Mrs. Hyleeta Liburd, Deputy Governor General on Nevis during an awards ceremony at Government House on September 20, 2021.
In her profile, she was described as one of Nevis' unsung heroes, who believes in giving her best without expecting any accolades to be bestowed on her.
Born in Brick Kiln Village to the late Cyril and Susana Brandy, Mrs. Wilkin is the third of six children. She was born and raised in a close-knit family and received her early education at the St. James' All Age School, commonly known as the Old White Hall School, up to the College of Preceptors level.She entered the Charlestown Secondary School in 1972 at the 5th Form level and graduated in 1973, having successfully passed four GCE subjects.