Basseterre,St.Kitts August 17 2021(SKNVIBES)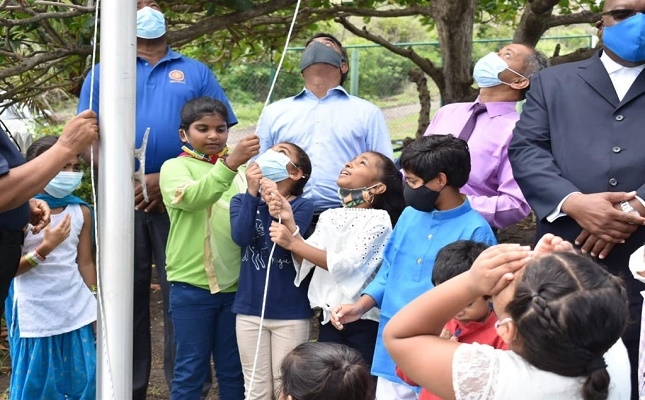 As part of India's 75th Independence Anniversary celebrations as Azadi Ka Amrit Mahotsav, the local Indian Community celebrated the historical day in St. Kitts and Nevis. Antigua and Barbuda in the morning on 15th August 2021. Dr. the Hon. Timothy Harris, Prime Minister of the Federation of St. Kitts and Nevis graced the occasion as Chief Guest. Honorary Consul of India's office has arranged and facilitated for community marking this important day and hoisting the Indian national flag followed by singing of the national anthem.
Indian nationals, members of Indian Diaspora, leading businessmen, cultural personalities, friends of India, etc. attended the event.In his speech, Prime Minister of St. Kitts and Nevis, Dr. the Hon. Timothy Harris wished the Indian Community in St. Kitts and Nevis a joyous celebration and every happiness on this 75th Independence Day. He said that that Indian Independence Day is a wonderful celebration of a people taking control of their own destiny. For 74 years India has been an independent nation and what a powerhouse it has become, what a force it is now. He commended "when you meet with Indian leaders, you can understand very quickly why India has become the global leader it is today". He added that Independence Day is also a chance to acknowledge the contribution made by the Indian Community in the Caribbean as well, the Indian Community have a long and proud history throughout the Caribbean which can be trade back over 150 years. He also praised the contribution of the Indian Community in St. Kitts and Nevis saying that they have been a core part of the Federation since 1860s involving in every facet of the nation and thanked them for the role they play for helping the country to build a stronger and safer future in the twin island.