NIA CHARLESTOWN NEVIS SEPTEMBER 28, 2021(SKNVIBES)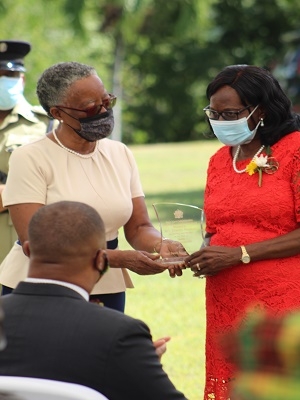 Retired Registered Nurse Mrs. Ernette Claudia Manners of Brick Kiln Village in Nevis was honoured on the occasion of the 38th Anniversary of the Independence of St. Christopher and Nevis for her contribution to the development of healthcare in the federation.To mark the occasion, Nurse Manners was presented with a plaque by Her Honour Mrs. Hyleeta Liburd, Deputy Governor General on of Nevis at an awards ceremony at Government House on September 20, 2021.
Nurse Manners is regarded as a registered nurse par excellence who after dedicating 39 years to the Nursing profession retired in 2016.According to her profile, Mrs. Manners completed her professional training at the Joseph N. France Nursing School in 1975 and worked at both the Joseph N. France General Hospital in St. Kitts and the Alexandra Hospital in Nevis in various units.However, although she felt fulfilled in performing her many duties, she found great satisfaction as a midwife, welcoming new lives and watching them mature and find purpose in life.