Basseterre,St.Kitts October 12 2021(SKNVIBES)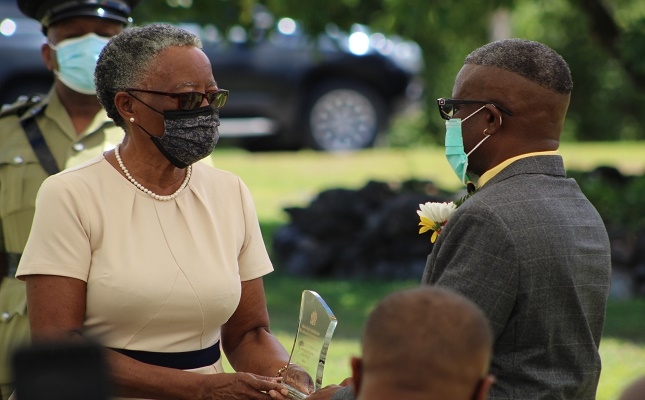 Mr. Carlisle Pemberton of Brown Hill, also known by his calypso name as King Binghi, was another of 11 Nevisians honoured during the recent celebration of the 38th Anniversary of the Independence of St. Christopher and Nevis for his contribution in the field of Music.In his profile which was read at an Awards Ceremony at Government House on September 20, 2021, when he was presented with a commemorative plaque by Her Honour Mrs. Hyleeta Liburd,Deputy Governor General in Nevis.
Born to parents Mrs. Joan and Wilma Pemberton, as a young Rastafarian who could play the guitar, he enjoyed all genres of music especially Reggae.His love for Reggae music and inspiration came from Reggae artists including Bob Marley, Peter Tosh and Bunny Wailer. They also motivated him to begin writing his own reggae songs which he would perform at the annual African Liberation Celebration.Mr. Pemberton also had a keen interest in the calypso art-form and paid close attention to calypso contests held locally, regionally and internationally. He had admiration for King Short Shirt from Antigua and Barbuda; the Mighty Sparrow from Trinidad and Tobago; and Sandopey (Curtis Morton) from Nevis.