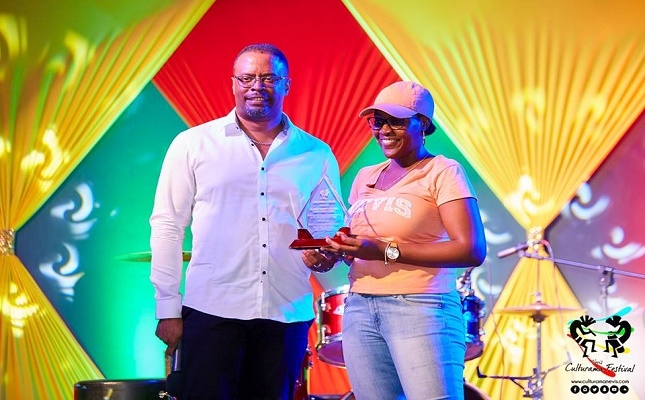 NIA CHARLESTOWN NEVIS (July 18, 2017)Â — Three members of the small business community on Nevis were recognised for their long standing contributions to the Cultural Village in Charlestown.
Deputy Premier of Nevis and Minister of Culture Hon. Mark Brantley presented Oldain "Sandy" Claxton, Kemuel "Kem" Simmonds and Samuel "Fish" Richards with plaques as tokens of appreciation and thanked them for their contributions at the official launch of the newly refurbished $1.7million Cultural Village on July 14, 2017.
 Claxton and Simmonds had been conducting business at the Village for the past 22 years and Richards for the past 21 years.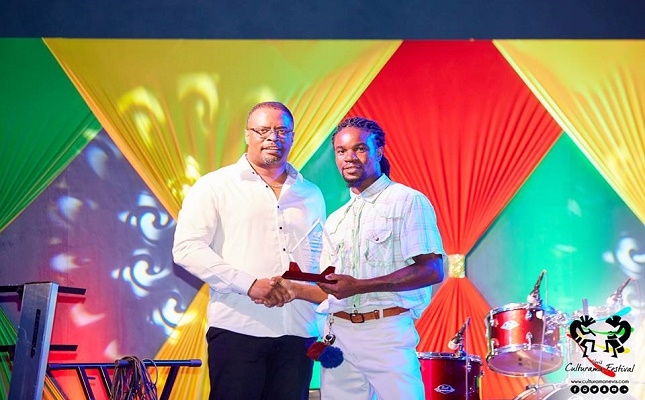 Meantime, in his remarks at the launching ceremony, Mr. Brantley spoke of the new safety and security feature at the facility.
"One of the things I am particularly pleased about is, we have emphasised, yet again, safety and security. You will see we have a brand new command post for the police and they can be comfortable and at the same time, have full vantage point of the entire facility," he said.
In addition to the new command post, Mr. Brantley reiterated that the installation of CCTV cameras at venues and throughout Charlestown would help patrons to feel secure and comfortable as they enjoy the new facility.
He said the investment in the facility, which took two months to complete, was a necessary one that the people of Nevis could enjoy and be proud of.
The key features of the new and improved facility include 10 attractively painted container booths with standard sinks and shelving. An upper lounge with a bar, fans and upligting. Dressing rooms, an air-conditioned lounge, an upgraded Bull Pen/Rose Garden area, a larger redesigned stage. Renovated and added new bathrooms, the Police Command Post, a wider courtyard, a modern entrance with artwork by Vaughn Anslyn and some landscaping.